When we saw that one of our fave indiepop blog writers, Kris from
Heaven Is Above Your Head
had started to compile his list of must-see bands for Indietracks, we just had to poach him for our blog! Of course, Kris is also in A Smile and A Ribbon, who charmed the pants off just about everyone at last year's festival with their delicious, sugary-sweet melodies. Now, let the boy himself guide you through some of the top names to catch at this year's shindig.....
Hello kids, I'm taking a rare break from my steady intake of bubblegum pop to write to you - I hope you appreciate the profundity of my gesture! Joining the ranks of the past witnesses heard here already, I can only agree that last year's festival was indeed the best thing that happened all year...

Like some of the previous guest writers on this blog - Pete Green, MJ Hibbett and Emma from Pocketbooks - I too had the immense honour of performing at the festival and I too wish that A Smile and a Ribbon could play again. And in fact I'm still having a hard time digesting that this year the festival will be even BIGGER and thus BETTER. How is this even possible? Well....you needn't look further than the line-up, which is what I'm here to talk about. Apparently the powers-that-be deemed my blog's list of things to see at Indietracks worthy of appearing here, albeit in an improved and slightly more eloquent guise.

We might as well confess, we've all been glancing at the line-up, eagerly circling bandnames with a Big Marker Pen For Big Matters and guiltily crossing things out with the Even Bigger Marker Pen For Things I'd Rather Not See Just Now. Priorities and allegiances - here's what i'll be tripping over my own feet to catch:

The Manhattan Love Suicides
…no words needed, right?
The Zebras
My favourite Australian band at the moment. I hope they bring their own instruments, because i wake up with their 12-strings jangling in my ears every morning.
The Wave Pictures
Can anyone have missed David Tattersall's greatness by now? If they have, it'll hit them in the face as The Wave Pictures take to the main stage on Sunday. Lines like "we get down on our knees and pray to be leather-bound black diaries" will leave you grovelling on the dusty floor.

Esiotrot (pic below)
Schmesiotrot was one of 2006's best albums and Seven Apples coming out later this year promises to be at least as good. If there's a time for nice guys, this is it.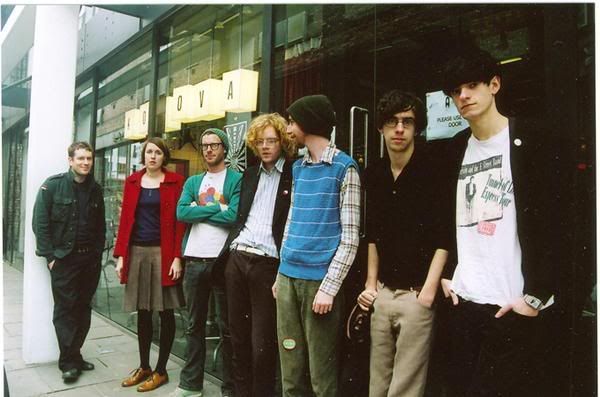 The Lodger
I keep forgetting these boys are actually English. On their new second album they're climbing those Highlands Peaks that the sun has trickled orange juice on. It's like the good old days, indeed.
The Voluntary Butler Scheme
The School aren't playing, but drop-out Rob is, which is nearly as deserving of an A. When he gets a record out it'll be among the best of the year - any year. No sniggering at the back!
Gregory Webster (pic below)
Just one question: who'll stand in for Elizabeth on the carousel tunes? I can't do it! Razorcuts / Sportique and Saturn V songs he should be able to handle though.
Comet Gain
I've only seen them once, and that is NOT enough. Will they play "The Kids at the Club"? They'd better!
Red Pony Clock
Another American band...where does Stuart get his money from? Especially since I've heard this band has so many members they're falling off the stage half the time. As the title of their new album testifies, they've seen a lot of the ground.
The Wedding Present
How fast is David Gedge's wrist these days? You know those gadgets that count your steps which you can strap to your legs? I'm putting one on David's guitar, and anything below seven strums per second will be unacceptable! The new album is great and all, but SOMEONE is bound to be twisting his arm for the hits.
ballboy (pic below)
A band after my own heart - no capitals here. They may not speak in lower case, and they may be from the capital of the country they hate, but Gordon won't need to teach me the art of kissing.
The Just Joans
Somehow i managed to live in Glasgow for a year without catching this duo live once - a grave mistake soon to be amended. I've pre-ordered the new Weepop! EP – have you?
I doubt I'm allowed much more space here so i'll just cram the rest in here: Still Corners, The Smittens, Pocketbooks, Liechtenstein, Milky Wimpshake, The Deirdres, The Occasional Flickers, The Good Natured, Zoey van Goey, Cocoanut Groove. There! Ooh, and everything's been ordered in its eeeeeeeee-factor, did I forget to say that?
Thanks Kris! We'll be sure to check out some of your hot tips - and we'll be sure to say you sent us!